The Correlation of Dietary Habit with Incidence of Gastritis
Keywords:
adolescent, diet, gastritis, habit
Abstract
Objective: The purpose of this study was to determine the relationship between diet and the incidence of gastritis in adolescents at Madrasah Aliyah Negeri 2 Ciamis (MAN 2 Ciamis), Ciamis Regency, West Java.
Method: The research desain used in this study is an analytical survey, to find the relationship between diet and the incidence of gastritis in adolescents, it is carried out with a cross sectional approach. The population used in this study were all teenagers consisting of class X students with a total population of 62 people. The total sample used is 56 people. The sampling technique used is purposive sampling, which is the sampling of data sources with the consideration of 56 respondents. To find the relationship between the two variables, the SPSS TEST was used to obtain the results of the chi-square test with a 95% confidence level and presented in the form of tables and narratives.
Result: In this study, as many as (67.9%) adolescents with poor dietary habits experienced more gastritis than those who did not experience gastritis (32.1%) and The results of the non-parametric chi square test showed a large number of values = 0.000 < 0.05 which stated that there was a significant relationship between diet and the incidence of gastritis in adolescents.
Conclusion: There is relationship between dietary habits and the incidence of gastritis in adolescents at MAN 2 CIAMIS.
Downloads
Download data is not yet available.
References
Amri, S. W. (2020). Hubungan Pola Makan Dengan Gastritis Pada Remaja Di SMK Kesehatan Napsi'ah Stabat Kabupaten Langkat. Malahayati Nursing Journal, 2(4), 659–666. https://doi.org/10.33024/manuju.v2i4.2966
Kapur, S. (2015). Adolescence: the stage of transition. Horizons of Holistic Education, 2, 233–250.
Nurmaidini, B., Rohita, T., Milah, A. S., & Kunci, K. (2020). Manajemen Gastritis. Jurnal kesehatan, 2(9), 89-94
Keshteli, A. H., Esmaillzadeh, A., Rajaie, S., Askari, G., Feinle-Bisset, C., & Adibi, P. (2014). A dish-based semi-quantitative food frequency questionnaire for assessment of dietary intakes in epidemiologic studies in Iran: design and development. International Journal of Preventive Medicine, 5(1), 29.
Li, Y., Su, Z., Li, P., Li, Y., Johnson, N., Zhang, Q., … Zhang, C. (2020). Association of Symptoms with Eating Habits and Food Preferences in Chronic Gastritis Patients: A Cross-Sectional Study. Evidence-Based Complementary and Alternative Medicine, 2020.
Lim, S.-L., Canavarro, C., Zaw, M.-H., Zhu, F., Loke, W.-C., Chan, Y.-H., & Yeoh, K.-G. (2013). Irregular meal timing is associated with helicobacter pylori infection and gastritis. International Scholarly Research Notices, 2013.
Penafiel, D., Termote, C., Lachat, C., Espinel, R., Kolsteren, P., & Van Damme, P. (2016). Barriers to eating traditional foods vary by age group in Ecuador with biodiversity loss as a key issue. Journal of Nutrition Education and Behavior, 48(4), 258–268.
Sandi, Y. D. L., Fitriani, A., Lismayanti, L., Srinayanti, Y., & Widianti, W. (2021). Prevalence and Correlation of Knowledge Level, Stress, Diet Compliance and Quality of Life in Gastritis Patients. Genius Journal, 2(1), 22–29.
Sogari, G., Velez-Argumedo, C., Gómez, M. I., & Mora, C. (2018). College students and eating habits: A study using an ecological model for healthy behavior. Nutrients, 10(12), 1823.
Sumangkut, M. S., Rompas, S., & Karundeng, M. (2014). Pengaruh Penyuluhan Kesehatan Tentang Gastritis Terhadap Pengetahuan Dan Perilaku Pencegahan Gastritis Pada Remaja Di Sma Negeri 7 Manado. Jurnal Keperawatan, 2(2).
Tanir, H. (2019). Determination of Healthy Life Style Behaviours of the Students in Middle-Adolescence. World Journal of Education, 9(1), 70–78.
Wahyuni, S. D., Rumpiati, & LestaRiningsih, R. E. M. (2017). Hubungan Pola Makan Dengan Kejadian Gastritis Pada Remaja. Global Health Science, 2(2), 149–154.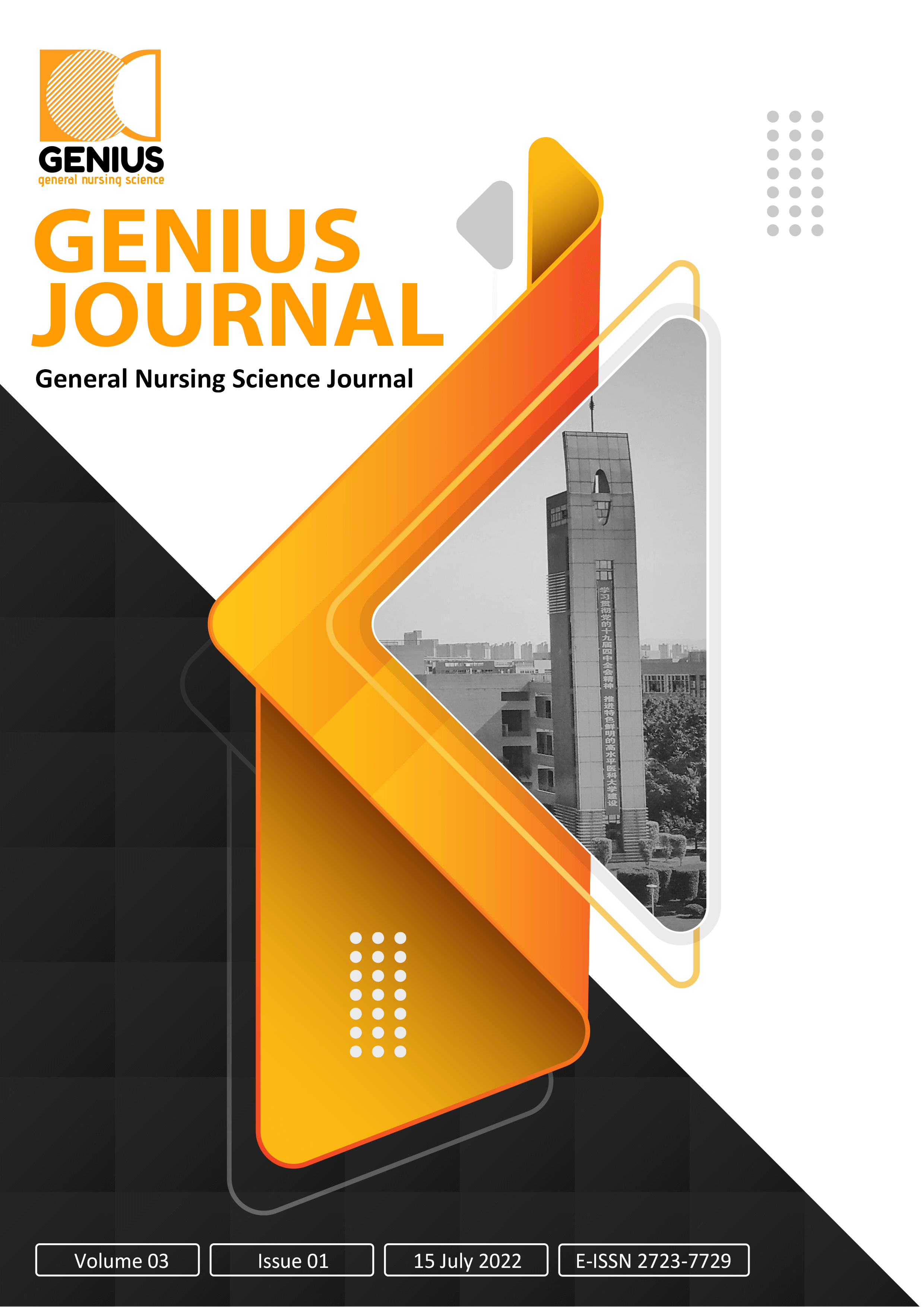 Downloads
How to Cite
Fitriani, A., Silvia Nurislami, A., Lismayanti, L., & Hidayat, N. (2022). The Correlation of Dietary Habit with Incidence of Gastritis. Genius Journal, 3(1), 125–130. https://doi.org/10.56359/gj.v3i1.43
License
Copyright (c) 2022 Genius Journal
This work is licensed under a Creative Commons Attribution 4.0 International License.